April 25th marks every year the remembrance of the battle of Gallipoli in the Turkish Dardanelles. Despite the fact that it ended in a defeat with terrible human losses, this date nevertheless marks the beginning of the legend of the ANZACs, these Australians and New Zealanders soldiers who showed a keen sense of mateship and incredible bravery.
This year, the ANZAC Day commemorations coincided with the hundred anniversary of the Battle of Villers Bretonneux. Throughout Victoria, many ceremonies were held to commemorate this very important date of our shared history.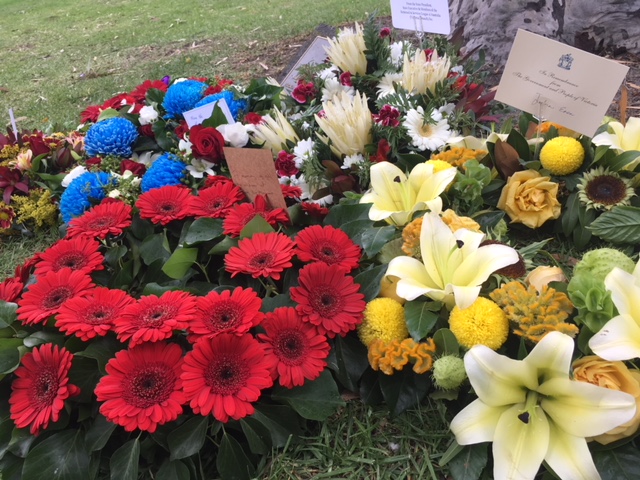 In Maroondah, on a sunny Wednesday 19 April, the local Rotary Clubs and municipality of Maroondah gathered an audience of 700 students from local schools. Colonel John Dougall gave a speech reminding us the ingenuity of General John Monash during World War Oone. Then, the consuls of Belgium, France and Turkey laid a wreath in front of the war memorial before the anthems were sung.
It was under a blazing sun and with a backdrop of cannons, that students, teachers, soldiers and personalities of the community of Broadmeadows met in the local Barracks on 23 April, to commemorate both the battle of Villers-Bretonneux and ANZAC day. The Hon. Franck McGuire, MP, was the Master of Ceremony  and invited Colonel John Dougall, Kevin Sheedy, Myriam Boisbouvier-Wylie and Eddie McGuire to the podium to deliver speeches, reminding the audience of the strong friendship between France and Australia.The local students were delighted to obtain a picture with football legend, Kevin Sheedy. A commemoration that the assistance won't forget. You can visualise the TV news report here.
On 25 April, the ANZAC DAY commemorations began at dawn at the Shrine of Remembrance. Then the traditional military march started from the city to the Eternal Flame, before the Hon Linda Dessau, Governor of Victoria, delivered a moving speech reminding the sacrifice of the young soldiers who didn't get the chance to become old.