Every year, on April 25th, Australians pause to commemorate the battle of Gallipoli in the Turkish Dardanelles. Despite the fact that it ended in a defeat with terrible human losses, this date nevertheless marks the beginning of the legend of the ANZACs, these Australians and New Zealanders soldiers who showed a keen sense of mateship and incredible bravery.
After the cancellation of the ANZAC ceremonies in 2020 due to the lockdown, everyone was happy to be able to attend the ANZAC Day commemoration ceremony and official wreath laying at the Shrine of Remembrance in Melbourne, on a beautiful Sunday morning.
The traditionnal Anzac March was somewhat reduced due to the lingering COVID restrictions, but nevertheless the honorary Consul General of France was proud to salute the French delegation of Anciens Combattants.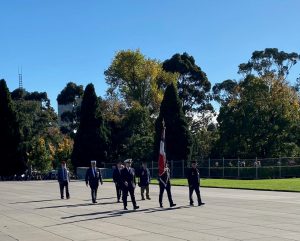 At the end of the March, the official party stood for an official ceremony led by RSL State President Dr Rob Webster OAM. In attendance were the Governor of Victoria, the Hon. Linda Dessau and her husband, Mr Tony Howard, the Hon. James Merlino, Acting Premier, Leader of the Opposition Michael O'Brien, Representant of the Federal Government, Senator David Van, Victorian Police commissionner Shane Patton, and Consul General for New Zealand, UK, France and Turkey.