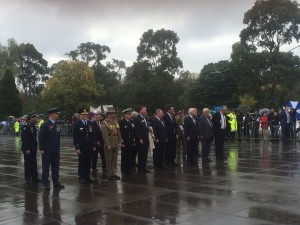 Neither clouds nor rain could dampen the spirits of those who came to pay their respects at the Shrine of Remembrance on Anzac Day. On Saturday, April 25th, under a sea of umbrellas crowds gathered to attend the traditional Anzac Day dawn service and parade. The annual event has become a way of commemorating not only the Gallipoli Campaign that began on April 25th 1916, but all other battles fought by the Australians to defend the values of democracy.
Present at the ceremony were the Honourable Alex Chernov, Governor of Victoria, the Honourable Daniel Andrews, Premier of Victoria, Major General David McLachlan, RSL Victoria State President, Lord Mayor Robert Doyle, and the Honourable Damian Drum, State Opposition Representative.
Anzac Day also marks the Australian Football League's annual Anzac Day Clash, with Essendon and Collingwood facing off in a commemorative game to honour Australia and New Zealand's veterans.