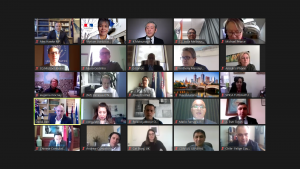 A great initiative by Victorian Senator David Van, the Consular Corps of Melbourne was happy to virtually gather together on the 25th of September to exchange with the Hon. Alex Hawke MP, Minister for International Development and the Pacific. Minister Hawke described the Australian international development efforts in the Pacific region, particularly in the context of the COVID crisis.
This presentation was followed by a discussion on a range of issues including the adverse effect of the closure of the international borders to the international community, families who are currently separated, international students who cannot enter Australia, companies unable to plan for future trade visits…
Basically, the answer of the Minister is that due to the unique geographic circumstances of Australia [large island], the National Cabinet decided to suppress the virus which implies keeping the borders closed until a vaccine is found.