The inaugural European Drinks  were  held on Thursday 27th February at the Sofitel Melbourne. Formerly known as French Aussie Drinks, this initiative by Sydneysiders Xavier Heyman and Karine Pham brings together the European community in Australia. For these inaugural Drinks in Melbourne, the theme was " France and Germany" with the participation of both consuls.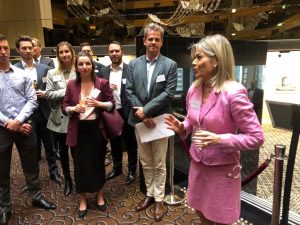 Honorary Consul of France, Myriam Boisbouvier-Wylie, reminded the guests that the European Union was the child of Peace and that this should not be forgotten.
On a less serious note, the Honorary Consul of Germany, Michael Pearce, said that he preferred French cars over German cars as he was a Citroen driver! ?
Congratulations to Geoffroy Caro, Sylvain Douroux and Xavier Heyman for their great organization of these very friendly drinks that allowed more than 120 people to network in a pleasant setting.