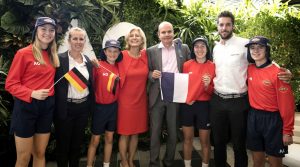 On 22 January 2019, a joint celebration was held by French and German delegations at the Australian Open. It was an Australian way to celebrate the Treaty signed that same day in Aachen (Aix-la-Chapelle) by French President Emmanuel Macron and German Chancellor Angela Merkel, intending to deepen collaboration between both countries and give a new impulse to the EU. This treaty is heir to that signed by Charles de Gaulle and Konrad Adenauer in 1963, known as the Elysée Treaty.
In Melbourne, HE Mr. Christophe Penot, Ambassador of France to Australia, and HE Dr Anna Prinz, Ambassador of Germany to Australia were accompanied by their respective Honorary Consuls in Melbourne, met on the sidelines of the Australian Tennis Open. There was a small celebration with umpires and ball boys and girls from each country that included exchanging small tokens of appreciation.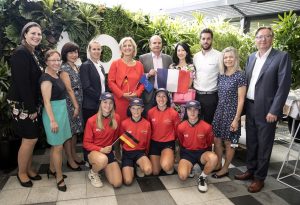 A delightful way to underline the friendship between the two Nations!