On the 3rd of March, ahead of the Fashion Week, Delphine Genin organised a haute-couture fashion show in the magnificent George Ballroom in St Kilda.That was an evening to remember under the theme of the Paris Opera, with actual ballerinas presenting the show.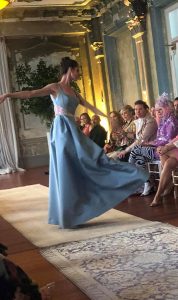 The Honorary Consul General of France, Myriam Boisbouvier-Wylie, launched the collection after describing Delphine Genin's exceptional career that took her from being a financial executive to becoming a designer.
Some pictures of this beautiful dancing parade!