Whether you are company CEOs, citizens, intellectuals, students from any continent, the Paris Peace Forum needs you! To make this forum a success, to enable the forum to think and take action for today and tomorrow, we invite you to propose your concrete initiatives and projects.
The Paris Peace Forum has one goal: think together, propose concrete initiatives, reinvent multilateralism and all modern forms of cooperation to ensure peace gains ground every day. We therefore invite you to come and win this positive fight together, to put forward your much-needed projects. This forum will be held in Paris on 11, 12, 13 November 2018, and will bring together Heads of State and Government, leaders of international organizations, NGO leaders, intellectuals, stakeholders, all those who want to think, take action, drive modern multilateralism, build peace, because it is in danger.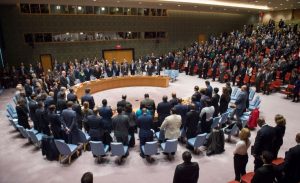 The 1918 Armistice put an end to the First World War with one desire: never again. As Europe was coming out of four years of horrific conflict which had killed millions of people, it had a desire to put an end to these conflicts. But in the years that followed, democracy lost ground, doubted itself, and both nationalism and totalitarianism seized their chance. And the Second World War was just around the corner. This risk haunts us. The risk of division, nationalism, inward-looking attitudes, the great fears which can cause democracy to doubt itself, the lack of international cooperation, this is what our world might currently be going through.
On 11 November 2018, we will celebrate the centenary of the 1918 Armistice. In Paris, we are inviting the Heads of States who participated in the First World War and many other Heads of States will be also present, not just to commemorate the centenary of the Armistice of the first global conflict, but to try together to keep the promise that we made 100 years ago: never again.