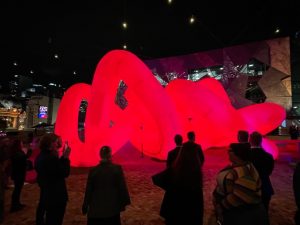 French artist Cyril Lancelin  combines  technology and art to engage the public in immersive installations, forcing the viewer to question their own relationship toward their built environment. Under Sarah Raftis careful curatorship, his large installation the Pink Knot finally made his way to Fed Square in Melbourne in June 2021 [after being cancelled in 2020].
We were lucky to proceed with the official launch on the 14th of July, with Fed Square CEO Ralph Ralphsmith, Victorian MP xc and Honorary Consul of France Myriam Boisbouvier-Wylie. it was a magical moment to see the Knot become lit from the inside!
To listen to Cyril's interview, please click here.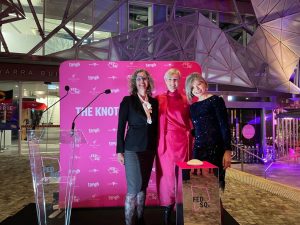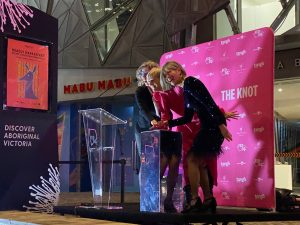 This event should have also marked the launch of the  "Frenchy Weekends" season that would have lasted thoughout winter till mid-September. Fed Square would have become a centre for French music and films thanks to the partnership with the Alliance Française de Melbourne. Unfortunately, the inopportunely-timed lockdowns 5 and 6 saw these plans fall apart.