On Wednesday January 22nd, Ms Anne Genetet, French Member of Parliament for the eleventh constituency of French citizens living outside France, came to Melbourne. Ms Anne Genetet is also rapporteur for the EU-Australia Framework Agreement Bill. In this context, she was interested in gathering information on various topical subjects. Ms Genetet was accompanied by her Parliamentary Attachée, Ms Stéphanie Reverchon, and was met in Melbourne by both Consuls, Ms Anne Boillon, Consul General of France in Sydney and Ms Myriam Boisbouvier-Wylie, Honorary Consul General in Melbourne.
Ms Genetet started her consultation with the visit of the Department of Environment, Land, Water and Planning to discuss the Victorian Policies in matters of renewable energy and energetic transition. Ms Genetet was really appreciative to get first hand views on the Victorian goals and with the concept of "resource recovery".
Her visit continued at the Victorian Comprehensive Cancer Research Centre where Professor Frédéric Hollande showed her the latest developments in this very innovative approach of doing research.
At lunch time, a group of French business people involved in renewable energy was gathered at the Honorary Consulate. This was the occasion for Ms Genetet to better understand the issues facing the local businesses in that industry.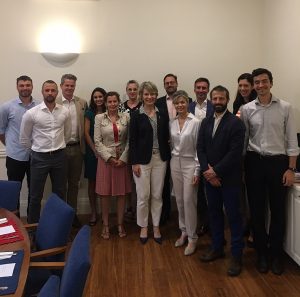 After an afternoon devoted to various meetings, Ms Genetet concluded her day in Melbourne with a public meeting held at this Alliance Française de Melbourne.