The launch of Dr Paul Soyez's first book  Australia and France's Mutual Empowerment took place on Thursday the 4th of July at the State Library Victoria.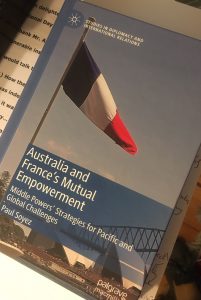 Through a fascinating dialogue between this young French Doctor in History and International Relations at Melbourne University and Professor John Langmore, research director at the Melbourne School of Government, the audience, composed of various academics and members of the French-Australian community, got to know more about the strategic relations between France and Australia.
The event was closed by Myriam Boisbouvier-Wylie, Honorary Consul General of France in Melbourne with whom Paul Soyez had started a few years ago as one of the very first interns! 
You can purchase a copy of the book here.