Lead by Mr. Hervé GUILLOU, Chairman of the France-Australia Business Council of MEDEF International and Executive Chair of Naval Group, and by Mr. Thierry MALLET, Chairman of the France-New-Zealand Business Council of MEDEF International and Executive Chair of Transdev Group, a large delegation of MEDEF International came to Melbourne on Monday 7 October to meet leading actors in the Australian political and economic landscape.
MEDEF International gathers every year about 7000 French companies already operating in the world, in 87 Business Councils headed by 70 CEOs of major international French companies. A non-for-profit organisation, created in 1989 by MEDEF, the French Business Confederation, MEDEF International aims at promoting the French companies internationally as well as supporting trade, technologic cooperation and investments and long-term partnerships.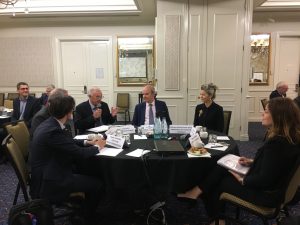 The Ambassador of France to Australia, HE Mr Christophe Penot, and his economic advisors welcomed the delegation during a working breakfast. This was the opportunity for local business people, including from the French Australian Chamber of Commerce and Industry, to give an overall outlook of the specificities of the Victorian market.
The delegation then went to Melbourne Town Hall where a meeting had been organised with The Right Honourable Lord Mayor Sally Capp, who gave an overview of the perspectives for the city. The annual budget of the City of Melbourne is $100 billion; the population of larger Melbourne is set to be larger than the population of Sydney within 10 years.  One million people are at any one time in the City of Melbourne, thus creating a congestion problem, especially for the pedestrians.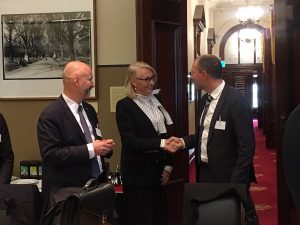 The visit continued with the Treasurer of Victoria, the Hon. Tim Pallas, who was accompanied by the CEO of Invest Victoria, Mr. Chris Barrett.Over the last five years, the State of Victoria has launched a $70 Billion Investment program in infrastructure and renewable energy, with the lowest rate of unemployment ever. The Private-Public Partnership Programs are booming  especially for hospitals and roads.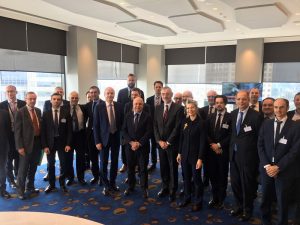 Early afternoon, the Federal Treasurer, the Hon. Josh Frydenberg, welcomed the French businessmen before their departure for Sydney.
Here is the executive summary :
Australian economy is driven by the Asian market, commodities, tourism and tertiary education.
Economic growth, even if slowing down, remains positive.
Main risks and challenges are around the trade wars and the reliance on Australian exports towards China.
The drought is another challenge for the economy
Historically coal has been the source of 70% of the production of energy of the country and it will not be possible to suppress it quickly, even if Australia has ratified the Paris Agreements.
Eleven free trade agreements have recently been signed with Australia (Japan, Korea, China, Trans pacific countries, Indonesia) ; the trade agreement with the European Union is still being negotiated, as is the one with the UK.
The French Australian relationship is thriving, as testified by the submarine contract which attests of the real trust between the two nations.
Among the OECD countries, Australian Universities produce the lowest rate of engineers.