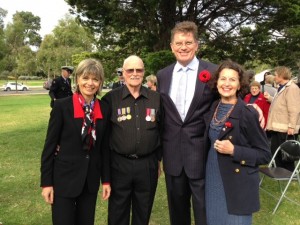 The sun briefly shone during the  ceremony organised by the Friends of the 15th Brigade to commemorate the 97th Anniversary of the Australian Victory at Villers-Bretonneux on 24th-25th April 1918, ceremony held at the 60th Battalion Tree in the Shrine lawn. The night battle led by the General Monash with 4,000 men of the 13th and 15th Brigades was one of pure courage and determination and marked a turning point in the whole fortunes of the War.
Mrs. Daniele Ney-Kemp, Consular Advisor and Delegate to the AFE, the Hon. Ted Baillieu, Chair of of the ANZAC Centenary Committee and John Downing, son of Walter Downing who fought the Villers-Bretonneux battle with the 57th Battalion, all gave poignant tribute and vibrant homage to the valour of the Australian diggers who defended so gallantly the last ridge before the township of Amiens.
Students from Strathewen Primary School and from Melbourne Grammar School then laid a wreath, thus showing the respect paid by the young generations to the courage of their elders. As movingly said in the banner displayed in the school yard of the "School Victoria" of Villlers-Bretonneux: "LET US NEVER FORGET AUSTRALIA".