Even though they live worlds apart, His Serene Highness (HSH) Prince Albert II of Monaco and Torres Strait artist Alick Tipoti unite to help protect the Ocean. A story brought to light by Australian Film maker Trish Lake in his aptly named documentary 'Alick and Albert'.
Don't miss the Melbourne premier (one night only) on Friday 10 December 2021 at 6:30 pm at the Palace Cinema in the Como Centre.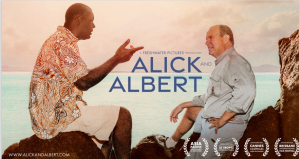 This is a film about an unlikely friendship of two men on opposite sides of the planet who are concerned by climate change and the many threats to the future of the Ocean.
Following the film, there will also be a Q&A section introduced by Mr. Andrew M. Cannon AM, Consul General of the Principality of Monaco, featuring Myriam Boisbouvier-Wylie, the Honorary Consul General of France in Melbourne, along with other special guests.
You can watch the trailer and learn more here www.alickandalbert.com