Do you have hidden talents and would like to have the opportunity to practice your French? 
The Melbourne French Theatre is holding auditions for Molière's La Comtesse Bis at 2 p.m. Saturday 18th February and 7 p.m. Monday 20th February. There are six roles available for actors speaking fluent French.
If you would like to attend an audition and find out more details about the play, please click here to RSVP.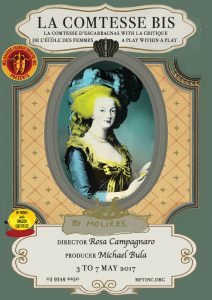 La Comtesse, a self-assured member of Parisian high society, fends off a list of suitors who attempt to seduce her with a can-can of flatteries, bad poetry and jealous outbursts. Meanwhile the devilishly charming Moliere wannabe playwright, Vicomte seduces La Comtesse with mock adulation and a sneak peak of his new satire, coincidentally, 'School For Wives Criticised'. How will she react to Vicomte's cheeky critique that ironically holds up a mirror to the small town world of La Comtesse?