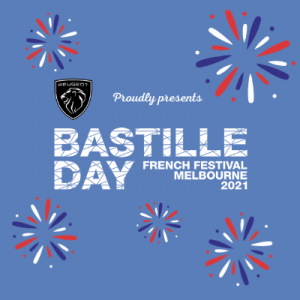 The whole team of Bastillle Day French Festival crosses their fingers and hold their breath! Do not miss their  rendez-vous on Friday 16 July and Saturday 17 July at Fed Square! You can even whet your appetite with an online wine tasting from the comfort of your home on the evening of Thursday 15 July. 
The 2021 programming keeps being unveiled and promises to meet your expectations in spite of extraordinarily difficult circumstances in organising the festival!
From the Series  Lumières Talks with top notch lecturers and participants whom we thank profusely, to the Bouygues Walking Tour  to more simply the free music, great ambiance and delicious products of the winter market, there will be something attractive for everyone. Merci to Gabriel Gâté who helps us so generously with his time each year.
We thank the sponsors who have believed in us and in this adventure and who gave us the support needed after the sad cancellation of the festival in 2020… Merci to Peugeot in particular but also to   all the other sponsors big or small, cash or in kind. Without you, we would not be ready to announce this Festival.
Please come to Fed Square on the 16th and 17th July to support the French community and to demonstrate its vitality and cohesion!