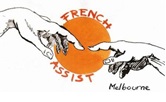 The newly created French Assist Melbourne is holding its first AGM on Monday November 24th, from 6pm untill 8pm, at the Alliance Française, 51 Grey St, St Kilda. You are welcome to attend !
Do you have time to help and show compassion to old or young people requiring assistance? Join the charitable work of French Assist and help them support those in distress in our community! One hour a week or one hour per year can make a difference!
For more information, get in touch by mail secretairefam@gmail.com !