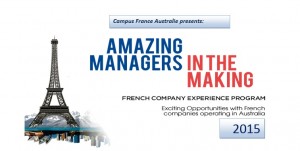 The French Embassy in Australia, in partnership with the French-Australian Chamber of Commerce and Industry and the Alliance Francaise presents the French Company Experience program for Australians and permanent residents students.
This partnership has been dedicated to enforce French Companies implanted in Australia's link with students looking for working experience.
A unique occasion for students to discover the French Companies's field with the benefit for companies in forming futur skills workers with a certain knowledge of France.
More info here.