During the The French National Day, celebrations are held all over France. The oldest and largest regular military parade in Europe is held on the morning of 14 July, on the Champs-Élysées avenue. But, if you are not in France on Bastille Day, the UFE Victoria is holding a special celebration.
The UFE invites you to join them to their French dinner on Tuesday the 14th of July at 7pm at Little Charley Restaurant to celebrate Bastille Day. In a room decorated in blue, white and red, the UFE will welcome you with a festive and musical atmosphere for you to enjoy their three course menu with wine and coffee.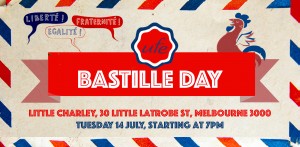 A raffle will also be organized to win a gift basket with red wine, champagne and several French products.