Founded in 1895 in Paris, Le Cordon Bleu has recently opened its doors in Melbourne!
On 10th September from 4:00 pm to 7:00 pm, Le Cordon Bleu Melbourne will hold an Open Day. Come along for a tour of the Moorabbin campus (488 South Road), cooking demonstrations and, of course, some fine food and wine! Register here!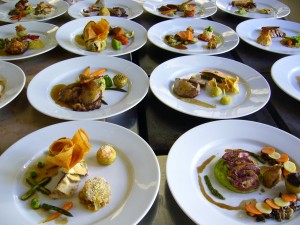 The epithet "cordon bleu" dates back to the 16th century when in 1578, King Henry III founded the Order of Knights of the Holy Spirit. Members of the order wore their emblem on a blue ribbon around their necks. In just a short time the Order acquired the familiar and collective name of "Les Cordon Bleu". Already at this time, the association with good food was established as the Knights acquired a reputation for their sumptuous banquets.
Today, le Cordon Bleu is a global education phenomenon with more than 50 institutes in over twenty countries. Le Cordon Bleu offers its classic cycle culinary programs but French tradition is blended with modernity as students also learn the latest techniques in molecular gastronomy.
Those looking for a career in the culinary arts may choose from the classic cycle which includes le Diplôme de Cuisine or Diplôme de Pâtisserie and the prestigious Grand Diplôme (Cuisine and Pâtisserie) – recognized throughout the world and awarded to students who have achieved the highest level of attainment in their studies for professions as Chef de Cuisine or Chef de Pâtisserie.
Le Cordon Bleu also offers the Advanced Diploma of Hospitality (Culinary Management) – a program that includes a further year following the Diplôme de Cuisine or Diplôme de Pâtisserie which introduces, as well as advanced culinary units, business and management units for those hoping to set up their own business or follow a career in management in international hotels and restaurants.