This year everything is different, including the famous Tour de France that has been postponed to September… On Thursday 17 September at 6pm join the French-Australian Chamber of Commerce and Industry  event from the comfort of your home… and taste wine while listening to stories about the Tour de France!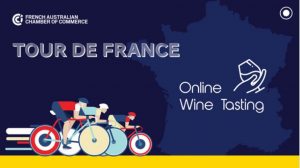 The evening program will include wine tasting and sommelier experience by Michel Chapoutier (live from France), Tour de France stories by Gabriel Gaté and Christophe Mallet, and of course… various prizes to win, in the spirit of the "Caravane du Tour".
Special guest will be Australian cycling legend Anna Meares, most decorated female track cyclist of all times and first Australian to win individual medals in four consecutive Olympic Games (Athens, London, Beijing, Rio de Janeiro).
Click here to learn more and to book now!