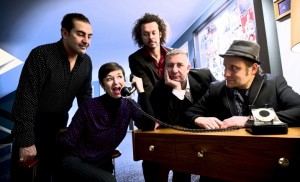 After continuously touring Europe, 20 tours of the USA, French quintet Paris Combo returns to Australia, on Thursday, the 11th of June at 7.30pm, at the Elisabeth Murdoch Hall of the Melbourne Recital Centre.
Delightfully cosmopolitan and seductively swinging, Paris Combo is as diverse and sophisticated as the city from which the band hails. Combining gypsy swing with elements of flamenco, chanson and alt-cabaret, the quintet mixes in Latin and North African rhythms for good measure.
Formed in the early 1990s, the group had its origins in the retro review Champêtre de Joie, which performed in the historic Berry Zèbre cinema in Paris' Belleville district and collaborated with renowned choreographer Philippe Decouflé at the closing ceremony of the 1992 Winter Olympics in Albertville.
To discover their world, book here !