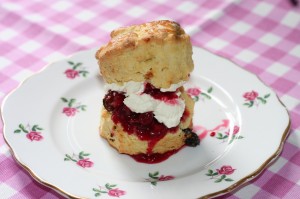 The UFE Victoria invites you to celebrate Queen's Birthday Holiday with a Royal Tea Party on Sunday, 7 June 2015 from 2.30pm at the Little Charley.
Queen Elizabeth II has not one but two birthdays ! Her real one is April 21st but her official birthday generally takes place between late May and early June to coincide with 'fine weather'. This year, the UFE Victoria will be celebrating her Royal Majesty Queen Elizabeth II's birthday with an amazing British tea party.
Among the scrumptious desserts served, there will be: home-made light & fluffy scones with raspberry jam and freshly whipped cream.