French voting in Melbourne for this year's European Parliament Elections took place at l'Alliance Française of Melbourne on Sunday, May 26. In Australia, 16,000 French citizens were elligible to vote in order to elect the new Members of the European Parliament for France. Out of 16,000 registered citizens, only 3.400 voters came to the polling booths, meaning a turnout of 21.38% of registered voters as opposed to 51,3% in Metropolitan France. Notwithstanding, participation increased compared to the 2014 elections, when only 13% of registered voters cast their votes.
The Honorary General Consulate of France in Melbourne and the Alliance Française of Melbourne are extremely grateful for the support given by each of the volunteers, who sacrificed their free time this weekend to ensure the proper organisation and conduct of these elections. We wish to thank the following people in particular:
Eddie René AMRANI
Thomas AOUSTET
Daniella BRUSAC
Geoffroy CARO
Nathalie CHOLLET
Thibault CLAMART
Nathan DÉDÉREC
Sebastien DELAMARE
Marysia DIET
Antoine DOLAIS
Robert DOW
Jean-Paul ESNAULT
Cindy GUEGUEN
Manuelle KLAJA
Francoise LIBOTTE
Taoufik MEZARGUIA
Estelle PAGES
Michel RICHARD
Carole SARASA
Serge THOMANN
A very big Thank You to all of our fantastic volunteers!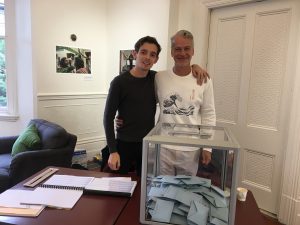 The overall results of French voting in Australia for the 2019 European elections are the following :
La République en Marche's Renaissance list came in first place with more than 38% of votes cast. The list Europe Écologie les Verts, led by Yannick Jadot, achieved a strong showing with more than 25% of votes cast. Further back, the lists PS, LR, RN and LFI earned respective scores of 6.4%, 5.89%, 5.68% and 4.47%. 44 spolied ballots and 11 blank ballots were also counted.
Regarding the results and turnout in Victoria, from the 3 507 registered voters, 750 came to the polling stations, with 738 valid votes casts, 1 spolied vote and 11 blank votes.
Here are the definitive results of Victorian French citizens' votes (by order of candidate lists) :
LA FRANCE INSOUMISE : 40 / 5,42%
UNE FRANCE ROYALE AU CŒUR DE L'EUROPE : 0 / 0%
LA LIGNE CLAIRE : 0 / 0%
PARTI PIRATE : 0 / 0%
RENAISSANCE SOUTENUE PAR LA RÉPUBLIQUE EN MARCHE, LE MODEM ET SES PARTENAIRES : 258 / 34,96 %
DÉMOCRATIE REPRÉSENTATIVE : 0 / 0%
ENSEMBLE PATRIOTES ET GILETS JAUNES : POUR LA FRANCE, SORTONS DE L'UNION EUROPÉENNE : 0 / 0%
PACE – PARTI DES CITOYENS EUROPÉENS : 0 / 0%
URGENCE ÉCOLOGIE : 18 / 2,44%
LISTE DE LA RECONQUÊTE : 0 / 0%
LES EUROPÉENS : 16 / 2, 17%
ENVIE D'EUROPE ÉCOLOGIQUE ET SOCIALE : 49 / 6, 64%
PARTI FÉDÉRALISTE EUROPÉEN – POUR UNE EUROPE QUI PROTÈGE SES CITOYENS : 0 / 0%
MOUVEMENT POUR L'INITIATIVE CITOYENNE : 0 / 0%
LE COURAGE DE DÉFENDRE LES FRANÇAIS AVEC NICOLAS DUPONT-AIGNAN. DEBOUT LA FRANCE! – CNIP : 10 / 1,35%
ALLONS ENFANTS : 0 / 0%
DÉCROISSANCE 2019 : 0 / 0%
LUTTE OUVRIERE – CONTRE LE GRAND CAPITAL, LE CAMP DES TRAVAILLEURS : 0 / 0%
POUR L'EUROPE DES GENS CONTRE L'EUROPE DE L'ARGENT : 3 / 0,41%
ENSEMBLE POUR LE FREXIT : 9 / 1,22%
LISTE CITOYENNE DU PRINTEMPS EUROPÉEN AVEC BENOÎT HAMON SOUTENUE PAR GÉNÉRATION.S ET DÈME-DIEM 25 : 27 / 3,66%
À VOIX ÉGALES : 0 / 0%
PRENEZ LE POUVOIR, LISTE SOUTENUE PAR MARINE LE PEN : 39 / 5,28%
NEUTRE ET ACTIF : 0 / 0%
PARTI RÉVOLUTIONNAIRE COMMUNISTES : 0 / 0%
ESPÉRANTO – LANGUE COMMUNE ÉQUITABLE POUR L'EUROPE : 0 / 0%
ÉVOLUTION CITOYENNE : 0 / 0%
ALLIANCE JAUNE, LA RÉVOLTE PAR LE VOTE : 4 / 0,54%
UNION DE LA DROITE ET DU CENTRE : 35 / 4,74%
EUROPE ÉCOLOGIE : 225 / 30 ,49%
PARTI ANIMALISTE : 5 / 0,68%
LES OUBLIÉS DE L'EUROPE – ARTISANS, COMMERÇANTS, PROFESSIONS LIBÉRALES ET INDÉPENDANTS – ACPLI – : 0 / 0%
UNION DÉMOCRATIQUE POUR LA LIBERTÉ, ÉGALITÉ, FRATERNITÉ (UDLEF) : 0 / 0%
UNE EUROPE AU SERVICE DES PEUPLES : 0 / 0%
Source: Ambafrance