Congratulations to a team of five Year 7 students from Auburn High School and their teacher, Mrs Noella Charbonneau : they have won the first prize of the "Dis-moi dix mots" (Tell me ten words) 2015 competition !
This competition is a celebration of French language and culture. The topic of this year is 'Tell me ten words…. that you welcome', the aim being to encourage students to create a collective piece of literary work including foreign-originated words; for instance "sérendipité" comes from the English word serendipity, "bravo" from Italian, "kitsch" from German and so on. The words show the ability of the French language to evolve, adapt, transform, reinvent and enrich itself through the time.
Auburn High School team members will travel to Paris in May to receive their award at the Académie Francaise. "Paris here we come !" 
"This is fabulous news which confirms our commitment to building a culture of excellence at Auburn High School. We have dedicated teachers challenging our students with innovative teaching and learning," commented Principal Maria Karvouni.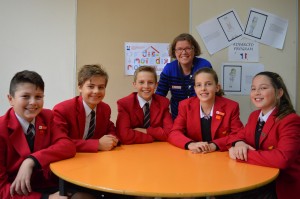 Left to right : students Jack Ballis, Julien Pietrzak, Ellis Biggar, Isabella Kose, Gwyneth Lee and teacher Noella Charbonneau.