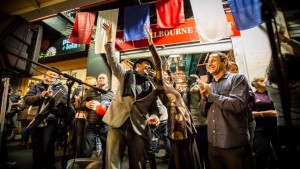 Like every 14th of July for 4 years now, the South Melbourne Market organised a Bastille Day Street Party. What started as a friend's Bastille Day gathering a few years back became one of Melbourne's most vibrant cultural celebrations.
Indeed, on this day, you could find delicious French street food including the famous: Beef Bourguignon, French Onion Soup, Crepes, Cheese Fondue, Cassoulet and Blue Cheese Gozleme, while dancing to tunes from the band "Vive La Difference" in a very lively atmosphere. This French-Australian band also performed at the Bastille Day French Festival at the State Library Victoria the following week-end (Sat-Sun 18-19).
During this celebration, Mrs Myriam Boisbouvier-Wylie, Honorary Consul General of France in Victoria, showed her support and said a few words. The organizers attach great importance to promoting French joie de vivre, cultural maturity and universal humanitarian values whilst maintaining the street aspect of the French celebration.
The street party runs every year on the exact date of Bastille Day, which is on the 14th of July, so don't miss the next one on Thursday 14 July 2016!