On Saturday 8 September the FRENCH CHAMBER of COMMERCE and INDUSTRY (FACCI) organised a very elegant gala dinner on the theme of fashion to conclude the Melbourne City Fashion Week. The Right Honourable Mayor of Melbourne Sally Capp pointed out that the Melbourne Fashion week means a lot to Melbourne's economy with 100,000 visitors and $7.5 million injected into the local economy.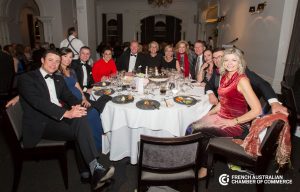 The former First Lady of Victoria, Mrs Robyn Baillieu, then talked about the importance of fashion in every day's life, before the fashion show of French brands Zadig & Voltaire, the Kooples and new high couture designer, Delphine Genin who also addressed the audience.
The music, the food, the wine and the good company made this FACCI gala evening a delicious evening to remember!