Pépite is a gallery-like space, located in Fitzroy, hosting a large selection of original objects by local creatives. Featuring a mix of hand-picked ceramics, jewellery, artwork, accessories and apparel, pépite gathers the work of some of Melbourne's (and Australia's!) freshest and most promising artists under one roof.
Every object and happening at pépite has been curated by French founder Irina Rybakov. Irina is passionate about supporting local talent and has been involved in Melbourne's creative scene since she moved to Melbourne 8 years ago (from Lyon, France), working with frankie magazine, Craft Victoria and The Big Design Market.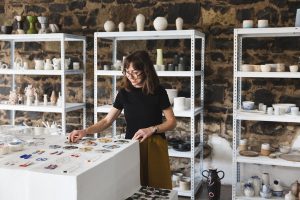 Pépite has recently teamed up with iconic Melbourne fashion label Alpha60 to set up a new home in their Menswear store in Fitzroy.