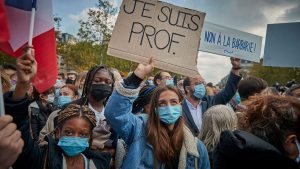 The assassination last Friday of Samuel Paty, a history and geography teacher, has shocked not only France but the whole world. We send our thoughts to his family, friends, colleagues, students and those who worked with him on a daily basis.
On the 18th of October at around 3:30 p.m., thousands of people gathered in Paris for a minute of silence in homage to Samuel Paty. A French national homage is planned for Wednesday, the 21st of October.
In Melbourne the two French secondary schools, Auburn High School and Glen Eira College through its Parents' Association, will also observe a minute of silence on Wednesday 21 October to show solidarity with and support for France and its values ​​of freedom, equality and fraternity.
The minute of silence will be at 11:15am at Auburn High School and at 10:37am with the Association of parents of the French Secondary School of Melbourne.