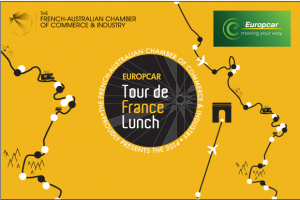 On July 26th, at midday, the French-Australian Chamber of Commerce & Industry invites you to the much-anticipated 2014 Europcar Tour de France Lunch at the Peninsula, Shed 9 in Docklands.
Come and celebrate the world's most famous cycling race at this fabulous event hosted by Gabriel Gaté and David Culbert which includes a four-course French menu imagined by Chef Nicolas Poelaert.
The 11th edition of this fantastic lunch will include a technical analysis of the Tour by cycling experts as well as a range of entertainment !