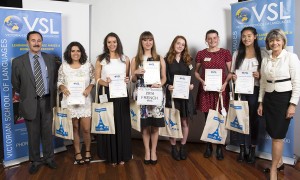 On Tuesday, 2 March, the Victorian School of Languages (VSL) celebrated its top-scoring students in the 2014 VCE (Victorian Certificate of Education) exams, that included 29 languages studied through VSL. 
The audience of students, families, teachers, educational and community organisations, and members of Victoria's consular corps from 15 countries, gathered at the University of Melbourne for a memorable evening. 
The VSL's Principal, Mr Frank Merlino, and the Parliamentary Secretary to the Premier, the Hon Colin Brooks MP, congratulated the students. The French contingent received a package sent by Campus France, as well as complimentary tickets to the French Film Festival of the Alliance Française.