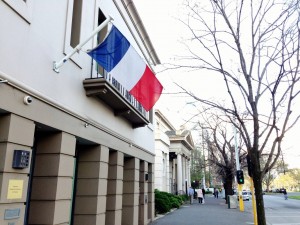 In the General Honorary French Consulate in Melbourne, the permanent team is composed of Mr Jean-Paul Esnault, Consular Assistant and Mrs Myriam Boisbouvier-Wylie, Honorary Consul General.
There is also a "temporary team" composed of two interns. Since January 2012, 24 interns have volunteered at the Consulate for about 3 to 6 months. These internships are part of their formal training at University. We have welcomed nine Australians, thirteen French, one bi-national and one Canadian citizens. They greet the public in a pleasant manner, help the Consular Assistant with the administrative tasks, help organising events and cultural projects and are actively involved in all the communication of the Honorary Consulate.
At the moment, Liam Cain from Melbourne University and Alice Moret from Sciences Po Toulouse are the faces behind "Bleu Blanc Rouge" and Facebook.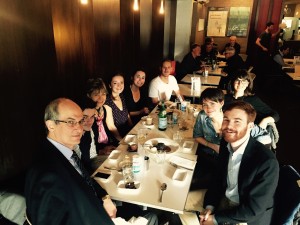 From left to right : Jean-Paul Esnault, Arnaud Studler, Myriam Boisbouvier-Wylie, June Raclet, Alice Moret, Pierre Bambou, Chloé Rew, Manuelle Klaja and Liam Cain at a convivial intern gathering.