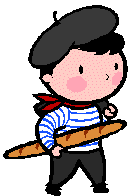 French nationality is automatically transmitted to the children born from at least one  French parent. We recommend that you register your child's birth at the Consulate of France in Sydney before his/her 18th birthday in order to avoid any difficulty. If your child was born in Australia, there are two possibilities to register his/her birth in the French "État Civil" :
You can book an appointment and meet the registrar at the General Consulate of France in Sydney 30 days maximum following the birth (the presence of the baby is not necessary).
You can ask for your child's Australian birth certificate to be transcribed in the French civil registry.
1- How to notify the French administration of the birth of a less than 30 day-old child ( by appointment only )
The child's birth certificate is delivered to one of the parents after deliverance of the following documents:
Certificate of the obstetrician including the mother's name as well as the location, date and time of birth and the child's sex. This document is part of the "Blue Book" delivered by the hospital.
The French livret de famille, if you have one OR the parents' birth certificates as well as the marriage certificate (if the parents are married)

A proof of French citizenship for at least one of the parents

Both parents' IDs
If it is your first child, the "déclaration conjointe de choix de nom" ( joint declaration of choice of name) signed by both parents
WARNING : If you are married, only one parent needs to go to Sydney to notify the consulate. If you are not, the father's presence is mandatory as well as the mother's if she is not French.
2- The Australian birth certificate's transcription into the French civil registry. 
This procedure takes around 6 months after which a copy of your child's French birth certificate and your Livret de Famille will be sent to you.
Everything is done by post. The  form named "formulaire de demande de transcription d'un acte de naissance d'un enfant mineur" completed by the French parent must be sent to the Consulate-general of France in Sydney as well as the following documents :
The

original BIRTH CERTIFICATE delivered by the Registry of Births, Deaths and Marriages + a photocopy of both sides thereof (the original will be returned to you)

A proof of French citizenship for at least one of the parents (photocopy of the National Identity Card OR of the consular card OR of the French citizenship certificate, …)
Photocopy of the passports  / National Identity Card of both parents
If the parents are married: livret de famille + photocopy thereof OR certified copy of the marriage certificate
If the parents are not married: certified copy of the parent's birth certificates
2 Express Post envelops, with the name and address of the applicants
as well as, when applicable The joint declaration of a choice of name (

 

déclaration conjointe de choix de nom

) and

 any deed or document establishing the maternal/paternal filiation
More information on the Consulate-general in Sydney's website : www.ambafrance-au.org